Sports Premium Report
2018-19
The primary Sport Premium is given to schools by the DFE to 'make additional and sustainable improvements to the quality of physical education (PE), physical activity and sport [offered]
(DFE 2019)
The Premium should be used to:
develop or add to the PE, physical activity and sport activities that your school already offers
build capacity and capability within the school to ensure that improvements made now will benefit pupils joining the school in future years.
The Ridgeway School has been allocated £16,100 (Year 1 – 6) for the academic year 2018/19.
The table below demonstrates the school's spending to date. The items in italics indicate proposed expenditure.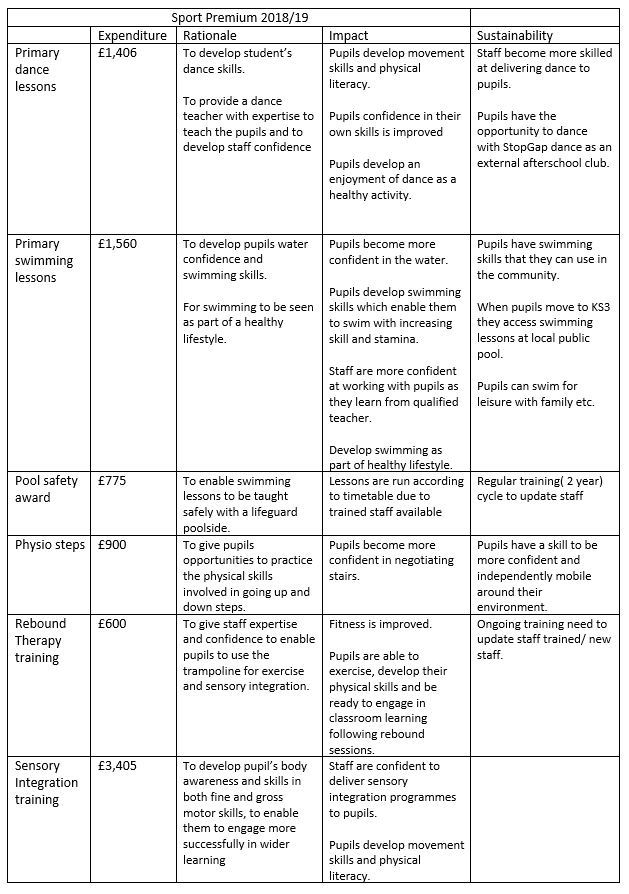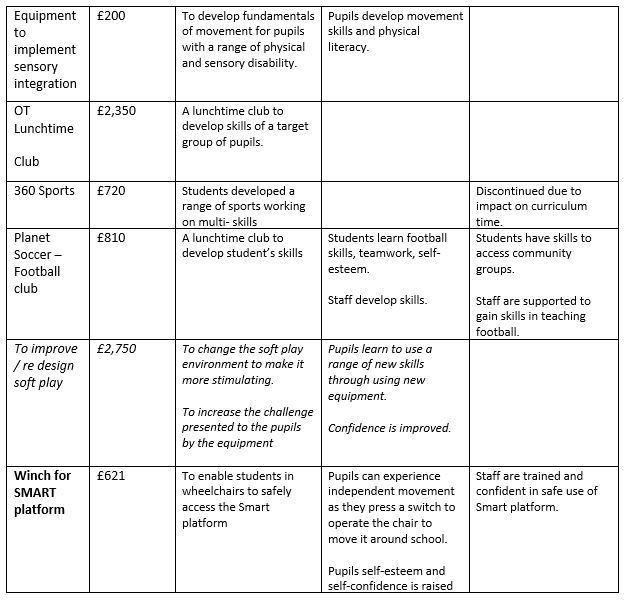 Evaluation 2018-2019
Sensory Integration Training.
The school have an occupational therapist who has advised on developing sensory Integration programmes and sensory circuits for pupils.
Teachers have become more confident at delivering and providing for bespoke sensory integration to meet individual needs. Pupils become more planned and organised in their motor activities and so are able to engage more in lessons as well as engage more effectively in PE.
Swimming teacher:
The pupils are organised into two ability groups and the swimming teacher is teaching structured lessons which develop water confidence and skill development for pupils. Staff are also developed in their confidence at teaching swimming skills.
Rebound Therapy:
Staff are trained to support individual students in rebound sessions through the Spring and summer terms. Students access the trampoline to develop skills, confidence, social skills and use physical energy.
Primary Dance:
A large group of pupils accesses lessons weekly. These sessions are focussed and fun and develop dance skills, social skills, individual performance and pupils working together.

Report date - July 19