Curriculum at The Ridgeway School
The Curriculum is not solely what we teach, it is the means by which we focus on what is key to the learning needs of each child to enable them to have as rich and fulfilled a life as possible, both now and into the future.
Our Curriculum is built on four pillars. Each pillar is reflective of the requirements with our children's EHCPs and are very closely connected, each complimenting and facilitating the development of the other towards best preparing our individuals for life beyond The Ridgeway.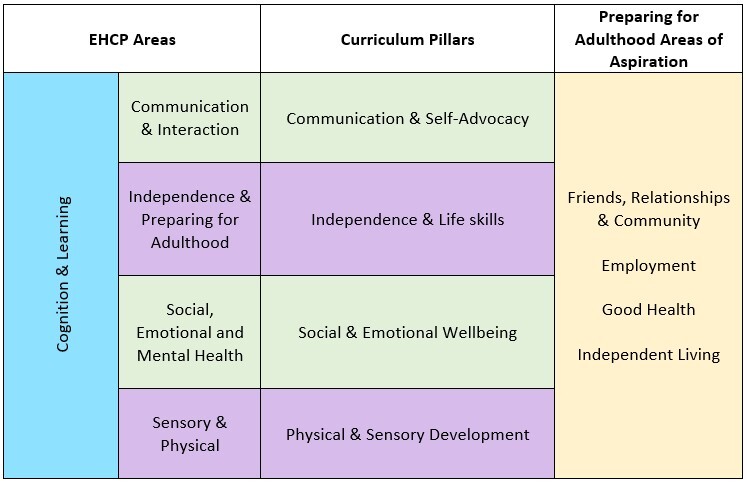 We operate a pre formal curriculum pathway and a semi-formal curriculum pathway, both delivered through a personalised, play based approach built upon our four pillars. This approach is closely linked to the principles set out in the Early Years Foundation Stage as our research indicates that this is a developmentally appropriate for our learners.
We use the Early Years Foundation Stage areas, enhanced by appropriate National Curriculum elements, to provide breadth of experience and opportunity.
These experiences act as vehicles and are delivered through a personalised approach, focused on individual outcomes born out of key priorities identified in their EHCP. This approach maximises engagement in learning, ensures access to learning is personalised and rich and meaningful experiences support individual outcomes.
Building on the four foundations, and at the heart of learning for our children, is our Thinking Skills Curriculum. This is a unique curriculum that underpins all learning. It is taught from Nursery through to Key Stage 5, taking account of the abilities and learning styles of the students. By improving the pupils Thinking skills, we can increase their confidence and independence, which in turn leads to greater self-esteem. With greater self-esteem and confidence comes an increase motivation to interact and communicate and through communication we can start to assert our independence, to have a purposeful voice.
We have high expectations and for our children to match these, they will need to access, interact with and problem solve the world around them. Our curriculum is designed to enable each child, at their own level, to rise to this challenge and celebrate their achievements. Our careful tracking and measurement of the impact of our curriculum on individual progress, evidences the achievements children make, how these reflect our high expectations and how we prepare them for the future. We foster a culture of collaborative assessment that enables staff to maximise pupil progress by purposefully and effectively using data from different strands to inform teaching and learning.
Our school is fortunate to benefit from specialist areas such as a Food technology room, Hydrotherapy pool, Rebound Trampoline, Soft play, MILE (Multi Interactive Learning Environment), Sensory Garden and Sensory Playground.
Educational and community visits and residential 'activity' experiences further enrich our curriculum. In addition, we periodically plan a week of intensive activities focusing on the curriculum areas such as Understanding the World, Physical Development and Expressive Arts.