Curriculum Statement
Our school is fortunate to benefit from such specialist areas as an Food Technology Room, Hydrotherapy Pool, Soft Play, MILE (Multi Interactive Learning Environment) and Sensory Garden.
Educational visits and residential 'activity' experiences further enrich our curriculum. In addition, we periodically plan a week of intensive activities focusing on subjects like Science, Physical Education or The Creative Arts.
The Curriculum is not solely what we teach, it is the means by which we focus on what is key to the learning needs of each child to enable them to have as rich and fulfilled a life as possible, both now and into the future.
Our Curriculum is built on three foundations;
Communication & Advocacy - Independence & Life Skills - Social & Emotional Mental Health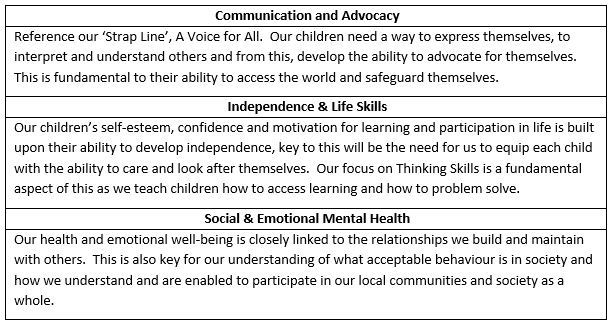 All three foundations are very closely connected, each complimenting and facilitating the development of the other.
Building on these foundations is our Thinking Skills Curriculum. This is a unique curriculum that underpins all learning. It is taught from Nursery through to Key Stage 5, taking account of the abilities and learning styles of the students. By improving the pupils Thinking Skills, we can increase their confidence and independence which in turn leads to greater self-esteem. With greater self-esteem and confidence comes an increase motivation to interact and communicate and through communication we can start to assert our independence, to have a purposeful voice.
We use the whole range of curriculum subjects to provide breadth of experience and opportunity. Whether we are studying the Shakespeare, Early civilisations, the climate of the Tropics or Science of Materials and Forces, we are focussed on the Thinking Skills that will enable children to access learning through to evaluating, reviewing and planning their learning.
We have high expectations and for our children to match these, they will need to access, interact with and problem solve the World around them. Our Curriculum is designed to enable each child at their own level to rise to this challenge and celebrate their achievements. Our careful tracking and measurement of the impact of our curriculum on individual progress, evidences the achievements children make, how these reflect out high expectations and how we prepare them for the future.